G.O.P. 2.0 MARSHMALLOW Lows Pixel Light
This item is based on the xVESSEL's 「Marshmallow」 collection, with a narrower fit that breaks through the possibilities of deconstruction. The back of the heel also carries the xVESSEL "anti-war thorns" logo, which is full of modernist aesthetics.

The new breakthrough pixel grid design carries a new silhouette, and the lightweight single-layer tongue is breathable and comfortable without losing texture. The shoe incorporates xVESSEL's classic black and white exposed size label, adding a sophisticated style to the shoe. The contoured sole is made of natural rubber for superior comfort and visual expression, and also has a height-enhancing, slimming effect.

In addition to the shoe itself, we include a decorative pin. Two woven patterned laces for everyday use, and seven thermal pen refills for doodling on the sole. The graffiti on the sole is entirely up to you. We want each customer to have their own unique custom xVESSEL shoes.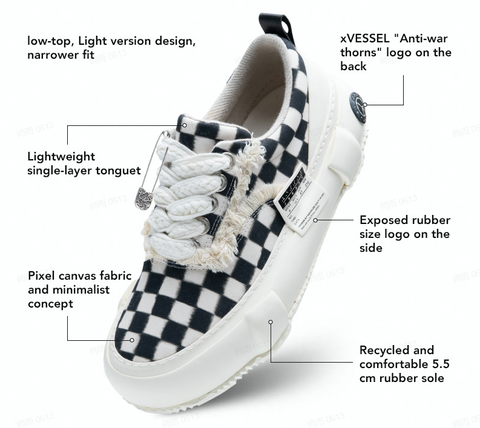 Light version of rubber sole design, narrower fit.
 Pixel canvas fabric and minimalist concept.
 lightweight single-layer tongue.
 Height-enhancing, slimming visual effect.
 Soft and comfortable to wear.
 An additional decorative pin.
 Extra pair of black pinstripe shoelace.
 Seven heat-sensitive (vanish under heat) refills for graffiti.
Shipping & Delivery

- xVESSEL will process orders within 3-4 business days after you place your order.

- International shipping takes approximately 7-15 business days to arrive.
Exchange & Refund

- xVESSSEL accepts returns or exchanges of xVESSEL products eligible to return within 14 calendar days of receipt of the products.

- Refunds will be made to the original purchaser, in the original method of payment and in the same currency as purchase.