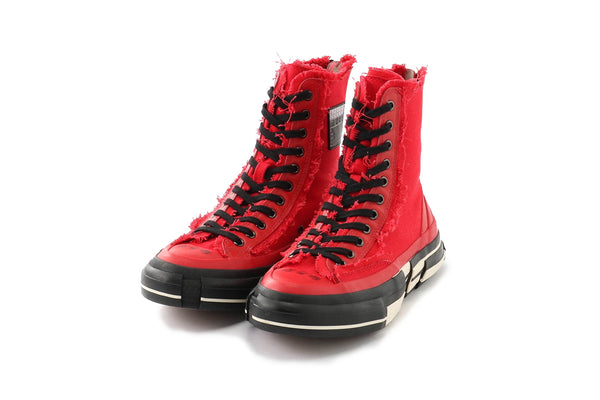 Taiwanese-American actor
, singer and all-around creative VanNess Wu debuted his 
xVESSEL
 brand in 2018 and has since partnered with a variety of 
tastemaking boutiques
 and like-minded designers to create layered footwear and street-ready apparel. Wu began creating sneakers for 
Yohji Yamamoto
 last year, when the famed Japanese designer tapped Wu for Spring/Summer 2020 sneakers, which are finally set to hit select Japanese stores.
Like the silhouettes seen during Yamamoto's Fall/Winter 2020 runway presentation, xVESSEL has prepped variations on its signature low-top silhouette for SS20, abetted by a pair of 11-eye boot-inspired models. Though Yamamoto is no stranger to customized boot-inspired sneakers, his Dr. Martens collaborations — which included two different 1490 boots for Fall/Winter 2018 — often include only 10 eyelets.
All four iterations sport xVESSEL's signature layered midsole, complete with cushioning cork and asymmetric black heel tab. A rear RiRi zipper makes it easy to enter the tall black and red shoes, while the tonal black and black/white low-tops feature an adjustable "fitgo" mechanic for easy lacing. Along with "YOHJI YAMAMOTO" embroidery, rubber sizing patches and "PEACE BY PIECE" verbiage (courtesy of Singapore contemporary artist Jahan Loh) on the toe caps, the shoes all sport intricate frayed hems for an extra ragged look.
Japanese Yohji Yamamoto boutiques will receive the limited edition xVESSEL sneakers on February 5.
Elsewhere, Yamamoto rejoined New Era for the latter brand's 100th anniversary.