Also sharing the story of how the Yohji Yamamoto collab came about.
1
Since its debut in 2018 at INNERSECT in Shanghai, the xVESSEL GOP LOW has been a staple silhouette among sneaker aficionados in Asia. Its signature deconstructed design and reassembled outsole make it one of the most recognizable pieces of footwear in the streets. Led by Van Ness Wu, whose involvement in streetwear dates back to the early 2000s with Triumvir, xVESSEL launched with a collection of softgoods but its GOP LOW has since taken the lead with its hybrid vulcanized-cork construction.
The footwear brand has since expanded into different models like the G.O.P. 2.0 MARSHMALLOW and G.O.P. Slip On, while the original GOP LOW has, in recent times, acted as a canvas for color experimentation and collaborations — even catching the eye of Yohji Yamamoto in 2020 for a full collection in 2020.
Adding to the list of collaborations, HBX recently teamed up with xVESSEL for a two-tone denim take on the GOP LOW. Joined by Van Ness Wu himself, we wanted to learn more about how the team at xVESSEL has been handling its success, what some of the challenges have been, and what lies ahead for the emerging footwear brand.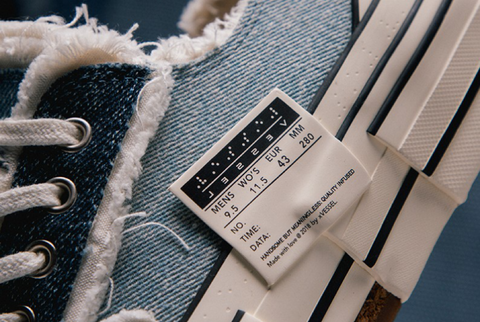 What was the creative vehicle that got you into fashion, and how did your upbringing in California impact this?
The earliest creative vehicle that got me into fashion would be just growing up in Orange County with the surf skate culture and also the hip-hop dance scene. Because you have punk Rock, grunge, alternative, glam rock, Run DMC, Public Enemy, NWA, 2Pac, and a mixed array of dance music. Such as Bell Biv DeVoe, Tony! Toni! Toné!, TLC, etc, and on top of that, I pull inspiration from anime, manga, and cartoons.
Having been in the entertainment industry for over 20 years, is there anyone that stands out to you as a style icon?
Michael Jackson and Prince always had such amazing outfits when they performed on stage. Michael on his
Bad
album came out looking like he's ready to throw down in his belt buckle pants. And Prince always pushed the boundaries with his outrageous suits.
Being a multi-creative — actor, dancer, musician, and designer — how do you split your time between roles?
I go with the flow of wherever the work is at the time. But music and designing is an everyday ongoing process of finding inspiration. And at the end of the day, I have a very good team backing me.
How would you describe your day-to-day style, and how has it evolved over the years?
I just wear whatever mood I'm in that day, cause at the end of the day whatever you wear will look good as long as it feels comfy, and you have the confidence to pull it off.
What would you consider an essential fashion item?
Accessories… I wear a lot of knickknacks and vintage items passed down from my family. Pieces that have a story to them. I love vintage flea market shopping.
When xVESSEL first launched in 2018, how did the idea of starting a shoe brand come about, and what was the vision like then?
My partner Leo and I at first wanted to create an apparel brand. When we first debuted at innersect, we had so many different SKU's from hats, jewelry, bags, cut and sew tees, hoodies and shoes as well. The shoes were very well received, and instant hit. So we decided to put all our energy into creating the shoes and making them perfect for the consumer.
How would you describe your role in the team and the brand's creative process?
We all have a pretty well balanced part in the creative process. From time to time, we have meetings and discuss which designs work and which don't. Everything now has pretty much a life of its own, which I'm very grateful for.
Were there any big challenges you faced when the brand first started?
The resale and fakes were very quick to the market and we've had to take on a lot of legal battles. But it's all part of the process I suppose. Again I'm very blessed to have a good team to help handle all of this.
What was the inspiration behind xVESSEL's signature design of having distorted outsoles and deconstructed uppers?
We wanted to create something no one has seen yet. But wanted to bring key designs that inspired us growing up. The deconstructed, reconstructed appearance is very pleasing to the eyes. Like artwork.
Is there one pair of xVESSEL you were particularly proud of?
I'm really proud of the shoes we did with Yohji Yamamoto. That has truly been a blessing, and an honor. The still remember when we went to karaoke, and I simply wanted to gift him a pair of xvessel. He not only liked the design we did, he asked us to make shoes for him on the spot! It's just one of the things in life where I can only sit back and be grateful. The shoe I showed him was the collab shoe we did with Mercedes AMG. We used the lacing system that's very easy to slip on and off.
What sparked the collaboration with HBX, and where did the concept for a full denim shoe come from?
I've had a long relationship with Hypebeast and Kevin just asked me one day if I wanted to do a shoe for HBX. I guess when something just feels right you go for it. The inspiration for the denim design probably came from our previous denim puffer jackets. We used a lot of old vintage denim. I'm quite happy with it.
What can we expect from xVESSEL and yourself in the future?
We are working on finalizing contracts with some very cool collabs coming up. And after our recent pop with my album merch, I redesigned certain pieces of clothing for a fresher appearance. The approach to the design is something that holds dear to the inspiration from when I grew up. So it's been very exciting to say the least.